Series 3 PassMaster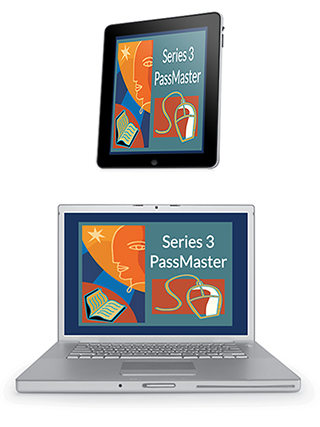 Series 3 PassMaster
Details
IFM's PassMaster is a comprehensive, Web-delivered tutorial and testing program that helps NFA candidates customize and streamline study time, and refine test-taking skills.  It augments IFM Series 3 Exam books or materials you may already own.
PassMaster consists of two distinct components  — a Tutorial with test questions and answers and an Series 3 Exam Simulator for NFA candidates.
The Tutorial is a study section that lets students sort questions by exam topic area and level of difficulty. After responding to each question, you receive instant feedback with explanatory answers and rationale. By using the Tutorial, you will be able to test your comprehension of the concepts and calculations, identify and focus on your weakest areas and effectively study.
The Exam Simulator closely resembles the actual Series 3 exam. It mimics the testing format of the exam and teaches you to identify trick questions and choose the BEST answer from the choices given.  It also teaches how to mark questions for review, and how to budget test-taking time within the allotted time. Results are scored like the actual exam, and you may take an unlimited number of timed-tests.
PassMaster Features Include:
A 600+ question database, reinforced with new and more challenging questions
A tutorial divided according to the 10 subject areas covered in the Series 3 Exam
Detailed explanations accompanying each tutorial question
Exam simulations and screen layout modeled after the actual exam
Scoring that mirrors the actual exam
PassMaster is designed to enhance your overall learning experience and compliments the IFM's two Series 3 texts - the Futures and Options and the Guide to U.S. Futures Regulation.  It is not intended to be used as a stand-alone study tool except by individuals with a strong knowledge of futures and options or by those re-establishing an inactive NFA registration.
---
Purchase Options
Cost

$85.00

Note

PassMaster is provided for one user and cannot be shared. Access is strictly nontransferable and subject to breach of license and legal action. It is valid for 6-months from date of purchase.

You will receive two emails 1) a confirmation of your transaction after you finalize your order, and 2) an email usually with an hour after you place your order with your training login credentials which are different from those used to place an order. Please note web-delivered product orders are fulfilled during normal business hours, Monday to Friday 9 AM to 5 PM Eastern Time, excluding U.S. holidays.

---