Futures and Options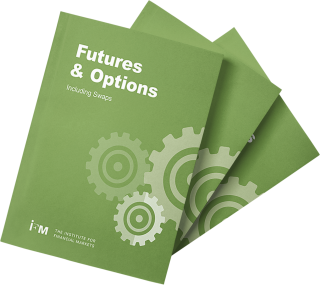 Futures and Options
Details
Now in its fifth edition, Futures and Options has been updated and expanded, and also includes a new chapter on swaps. This preeminent text and reference book continues to be a "must read" for new participants in the futures industry, market regulators and other stakeholders who need to build market knowledge and learn the important aspects of the industry. It serves as a valuable educational resource for the aspiring professional — whether from the buy or sell-side — and as a basic component in any personal finance library.
What's Inside?
Futures and Options is developed by market practitioners and illustrates both theory and real-world application. The 198-page book will enable the reader to achieve a solid understanding of derivatives products and the markets on which they trade. It covers all the relevant aspects of futures, options on futures and swaps, and the underlying cash markets for both physical commodities and financial instruments. Unique features include:
a comprehensive treatment of the major types of futures and options orders
coverage of swaps products and application
a thorough analysis of the principles and practices of futures clearing and margining
an in-depth treatment of hedging, speculation, spreading and calculations
an integrated treatment of futures and options on futures including (premiums, price limits, settlements, delivery, exercise, and assignment)
coverage of commodity and financial futures, options and swaps (i.e., energy, metal, agricultural, foreign exchange, interest rates, indexes, etc.)
an extensive glossary of industry terminology
more than 190 questions and explanatory answers that let you test your understanding and retention of the concepts and content.
Futures and Options also is an essential study component for candidates preparing for the NFA Series 3 Exam and covers all of the subject areas of the Market Knowledge of the section proficiency exam.  This book, along with its companion text, Guide to U.S. Futures Regulation, are used by firms and industry regulators to help professionals meet the standards set forth in The Commodity Exchange Act. 
More about NFA Series 3 Exam Preparation
Futures and Options: ISBN: 978-0-578-88451-6
---
Purchase Options
Cost

$95

Note

Plus shipping and handling for the U.S. & U.K. calculated online at check-out.
For international orders (non-US), please contact us via email info@theIFM.org or telephone 1-202-223-1528, so that we may confirm your shipping details and quote you the price.
---