DC Fintech Week 2021
DC Fintech Week 2021
Details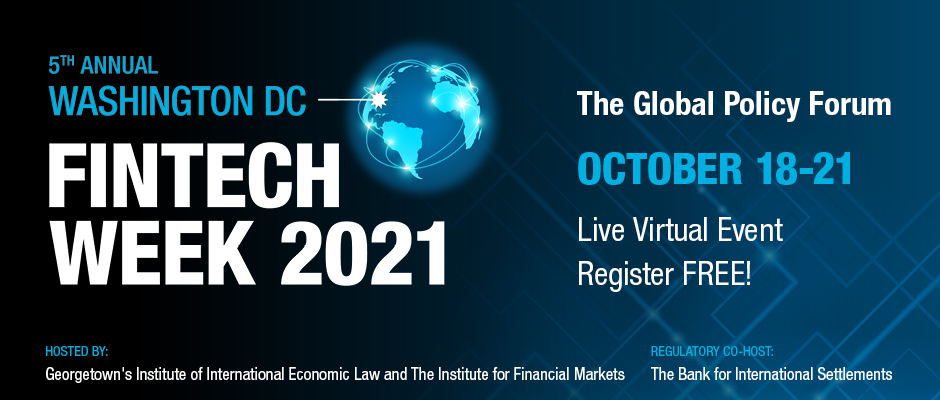 Join us October 18-21, 2021 for the 5th annual Fintech Week — a unique event that brings entrepreneurs and thought leaders across the financial ecosystem together with the regulatory community.  This year's event again is hosted by the IFM and the Institute of International Economic Law at Georgetown University with the Bank for International Settlements (BIS) joining us as a regulatory co-host.
DC Fintech Week 2021 will again be held virtually. Attendance is provided free of charge and last year captured by over 10,000 viewers .If local Covid guidelines permit, some networking elements of the conference may be held in person.
About DC Fintech Week
As nonprofit educational institutions, IIEL at Georgetown Law and the IFM aim is to elevate the public's understanding, and discourse, by democratizing the ideas and thoughts driving industry and policymakers.
Our Fintech Week offers participants a unique global policy forum where thought-leaders can discover, discuss and debate rapidly evolving changes to the financial ecosystem that drive policy and regulation — and what they mean to markets and investors.  .
---
---
If you have questions or are unable to complete your online order, please contact the IFM at 1-202-223-1528, or via e-mail at info@theIFM.org.